GEARWRENCH® Mobile Work Station Wins Award
GEARWRENCH® Mobile Work Station Wins Award
Sparks, MD, August 19, 2019 - Professional Tool & Equipment News (PTEN) released its list of annual Innovation Award Winners, and for the first time GEARWRENCH® earned top honors in the "Toolboxes and Cart" Category.

The PTEN Innovation Awards recognize outstanding companies whose products respond to the automotive repair industry's market challenges with creativity and innovation. Winners in 31 categories (out of nearly 150 nominations) were selected based on their ability to make vehicle diagnosis and repair easier and more efficient.

"It is rewarding to see GEARWRENCH win in a new category like Tool Storage," says Paul Steinweg, SBU Leader, HT Adjacent Products. "There are a lot of strong brands in this space. This recognition shows that GEARWRENCH has the brand equity and inherent innovation to take market share in new areas."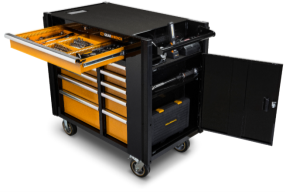 This type of Mobile Work Station is a first for GEARWRENCH, which traditionally has focused on the tools that are inside the box rather than the box itself. Steinweg invited a group of industry professionals to share their frustrations with their rolling boxes and then asked them to draw out what they thought would make the ideal setup. Some of the pain points included wheels that were too small and a lack of customization options.
The GEARWRENCH Mobile Work Station glides on industrial grade 6x2-inch-wide polyurethane locking casters that support a max capacity of 2,000 pounds. With 11 different-sized drawers—including a full-size top drawer with adjustable partitions—and a lockable side cabinet with adjustable shelf, the 19,000 cubic inches of storage space is flexible enough to fit whatever tools the job needs. The drawers boast 100-pound capacity ball-bearing locking drawer slides.
Winning features of our GEARWRENCH Mobile Work Station include:
• Heavy-duty, 20 gauge steel frame and drawers provide superior strength
• 19,000 cubic inch storage capacity and a 2,000 pound load capacity
• Top drawer features customizable partition system for ease-of-use
• EVA drawer liners come standard as well as a 6mm thick EVA top mat
• Built-in charging station with 6 outlets and 2 USB ports
• Peg board surface and can shelf on one side and secure lockable side cabinet on the other
The GEARWRENCH Mobile Work Station is available from industrial and commercial distributors, as well as automotive warehouse distributors.
About GEARWRENCH®
GEARWRENCH is a premier hand tool brand from Apex Tool Group. Since the launch of the original five-degree ratcheting wrench, the GEARWRENCH brand has led the industry with breakthroughs in pass-thru ratchets, sockets, screw/nut drivers, pliers, and specialty tools. For more information, visit www.gearwrench.com.